Wissenschafts als Herausforderung: Manifeste
"Russell-Einstein Manifesto", July 1955 (5)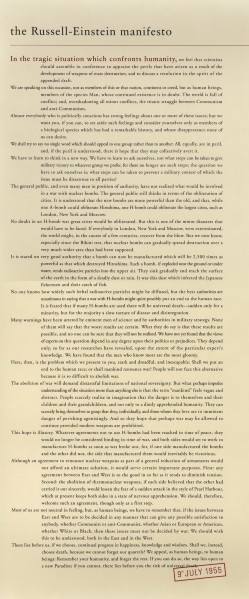 Although an agreement to renounce nuclear weapons as part of a general reduction of armaments would not afford an ultimate solution, it would serve certain important purposes. First, any agreement between East and West is to the good in so far as it tends to diminish tension. Second, the abolition of thermo-nuclear weapons, if each side believed that the other had carried it out sincerely, would lessen the fear of a sudden attack in the style of Pearl Harbour, which at present keeps both sides in a state of nervous apprehension. We should, therefore, welcome such an agreement though only as a first step.
Most of us are not neutral in feeling, but, as human beings, we have to remember that, if the issues between East and West are to be decided in any manner that can give any possible satisfaction to anybody, whether Communist or anti-Communist, whether Asian or European or American, whether White or Black, then these issues must not be decided by war. We should wish this to be understood, both in the East and in the West.
There lies before us, if we choose, continual progress in happiness, knowledge, and wisdom. Shall we, instead, choose death, because we cannot forget our quarrels? We appeal as human beings to human beings: Remember your humanity, and forget the rest. If you can do so, the way lies open to a new Paradise; if you cannot, there lies before you the risk of universal death.