Wissenschafts als Herausforderung: Manifeste
"Russell-Einstein Manifesto", July 1955 (2)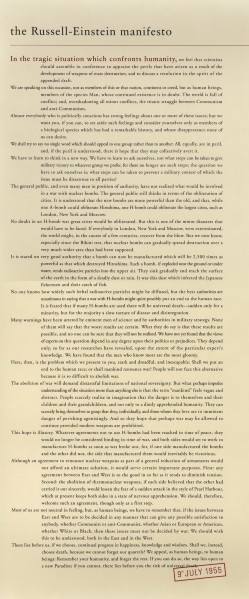 We have to learn to think in a new way. We have to learn to ask ourselves, not what steps can be taken to give military victory to whatever group we prefer, for there no longer are such steps; the question we have to ask ourselves is: what steps can be taken to prevent a military contest of which the issue must be disastrous to all parties?
The general public, and even many men in positions of authority, have not realized what would be involved in a war with nuclear bombs. The general public still thinks in terms of the obliteration of cities. It is understood that the new bombs are more powerful than the old, and that, while one A-bomb could obliterate Hiroshima, one H-bomb could obliterate the largest cities, such as London, New York, and Moscow.
No doubt in an H-bomb war great cities would be obliterated. But this is one of the minor disasters that would have to be faced. If everybody in London, New York, and Moscow were exterminated, the world might, in the course of a few centuries, recover from the blow. But we now know, especially since the Bikini test, that nuclear bombs can gradually spread destruction over a very much wider area than had been supposed.