Q-Dialog Quantenmechanik
Dialogue about Quantum Mechanics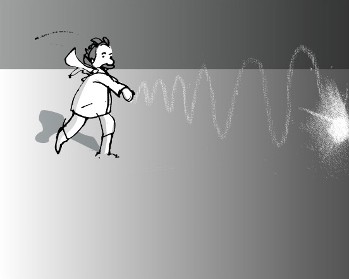 Einstein:
But the instant the electron lands, the wave disappears. Instantly. Quantum mechanics states that the wave MUST disappear, because otherwise the electron still could be observed somewhere else on the plate. People call it the collapse of the wave function nowadays. It's utterly absurd. I call it spooky action at a distance.
Bohr:
I'm familiar with your problem, Mr Einstein.
Einstein:
I wouldn't have a problem if you would just limit quantum mechanics to a description of the behavior of a great number of electrons. A diffraction pattern will be created as a result of millions of little black dots on the photographic plate, and the wave is nothing more than the varying density of the dots on the plate. But you claim that quantum mechanics is a complete description of the behavior of individual electrons, and so you are stuck with the collapse. Do you seriously believe that pure chance determines the path of an electron? That would be ridiculous.