Q-Dialog Quantenmechanik
Dialogue about Quantum Mechanics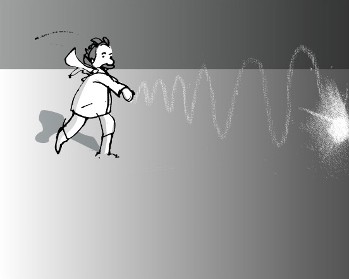 Einstein:
Like ocean waves, which either push each other up or weaken each other.
Einstein, Bohr:
Fascinating!
Bohr:
Wherever the electron waves are strengthened, many electrons have landed and created the dark areas. Where they are weakened, the photographic plate remains light.
Einstein:
The astounding thing is that the pattern is created even when the electron beam itself is extremely weak, so weak that the electrons land one by one on the photographic plate.
Bohr:
It's almost as if an electron went through both slits...