Q-Dialog Quantenmechanik
Dialogue about Quantum Mechanics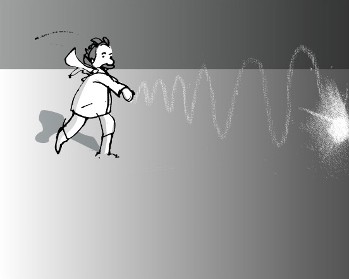 Bohr:
It doesn't make any sense to discuss the path of a single electron in this experiment. Heisenberg's Uncertainty Principle has shown that it is impossible in principle to measure both the position and the velocity of an electron at the same time. When the electron enters the slit in the screen, we know exactly where it is. But we know nothing at all about its velocity and thus cannot say which way the electron is headed.
Einstein:
Uncertainty! Just because you can't measure the velocity, that doesn't mean there isn't any. I'll say it again: You're a mystic. If you had your way, the moon would only be there when you were looking. May I remind you of modern thermodynamics and the interpretation of Brownian motion? We are constantly talking about both the position and velocity of the smallest particles, without being able to measure them - and we're perfectly successful in that!
Bohr:
Only quantum mechanics is able to explain the existence of atoms.