Q-Dialog Quantenmechanik
Dialogue about Quantum Mechanics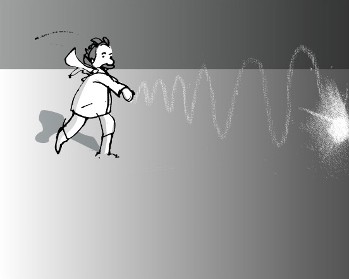 Bohr:
But Mr Einstein, you have to admit...
Einstein:
No, Mr Bohr. I will happily admit that your atomic model is evidence of a unique sensitivity. But I beg your pardon: The way you, Born and Heisenberg have interpreted quantum mechanics – there you have overshot the mark by far.
Bohr:
I've overshot the mark? That's what the colleagues have said about you for twenty years, when you stuck with your claim, against all opposition, that light is a particle.
Einstein:
A wave AND a particle.
Bohr:
Exactly! No one could understand that. And now, finally, we can interpret the wave-particle duality, everyone is happy...