Q-Dialog Quantenmechanik
Dialogue about Quantum Mechanics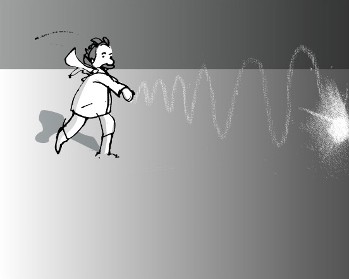 Bohr:
But a fallacy, Mr Einstein. You've forgotten that if the screen is going to be moved by an electron that is passing through it, then the screen itself has to be treated as a quantum object. And as such, the screen is subject to the Uncertainty Principle. You can measure the velocity of the screen and thus the direction of the electrons.
Einstein:
I understand. But now the position of the screen and thus the position of the electron when it passes through cannot be measured as precisely. So the interference pattern is destroyed.
Bohr:
You cannot separate the behavior of atomic objects and the methods used to measure them. You can't avoid the Uncertainty Principle.