Q-Dialog Quantenmechanik
Dialogue about Quantum Mechanics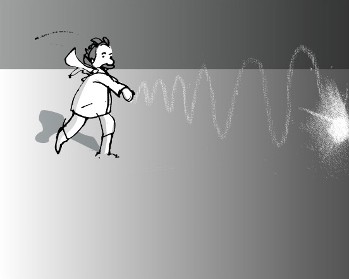 Bohr:
And again and again Ehrenfest, who was greatly entertained by us. And you, Mr Einstein, had brought along several of your famous thought experiments.
Einstein:
Simple ones. For instance: A single electron goes through a slit in a screen and falls onto a photographic plate, making a black dot on the spot where it hits.
Bohr:
Quantum mechanics describes that as a wave which spreads out behind the slit. It's a common phenomenon, called electron wave diffraction. The electron could register anywhere on the photographic plate. The wave function determines the probability that the electron will hit in a particular spot.