Q-Dialog Quantenmechanik
Dialogue about Quantum Mechanics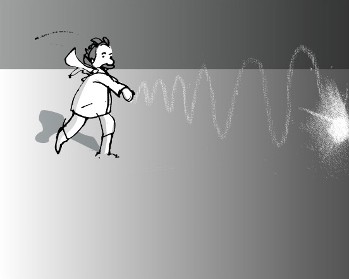 Bohr:
And you HAVE defended yourself, after all. You created one thought experiment after the other to undermine the Uncertainty Principle - the experiment with the double slit, for example.
Einstein:
Between the first screen and the photographic plate I imagine a second screen now, with TWO slits.
Bohr:
When a beam of electrons comes through the left-hand slit, we see light and dark stripes on the photographic plate.
Einstein:
An interference pattern.
Bohr:
It is created because the electron waves are superimposed, getting stronger in some places and cancelling each other out in others.